B & M Thrift Store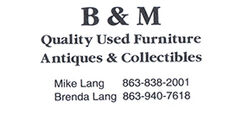 Contact: Mike and Brenda Lang
Phone: 863-838-2001
2535 SR 60 W
Lake Wales, FL 33859 United States
http://www.bmthrift.store
Hours of operation: M-F 10 a.m. to 5 p.m. SAT-SUN 9 a.m. to 5 p.m.
E-mail:
[email protected]
Here you'll find an appealing selection of sophisticated decor. Collector's items that will furnish your home and be the perfect fit. Items bought and sold daily--7 days a week--so please stop in before the piece you cherish is gone.
We buy, too. Bring in items or call to set up an appointment for us to come to you!
Back to Top